Break helper updated to 1.1
Today I added one small but important feature to my extension Break Helper
It's been free to download for more than a week, the whole time I've been using it and I'm quite happy with it. However, one problem was nagging me - when I take a break, I can't tell how much time is left. Well, the notification will stay visible only while "break mode" is enabled, but to track the time more accurately, I added a timer to the notification. That is the new feature. Big black numbers, easy to spot when glancing over the screen, no need to keep in mind when you've started.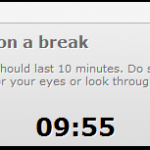 The updated version of Break Helper is already in the Chrome market and older versions should automatically be updated by the browser soon (does Chrome really do that? I saw manual update button though).
I've been thinking lately how to improve the extension. I think I will add a feature (probably to be enabled in options) to play a sound when the break is over. I think that would make keeping track of break duration much easier. Another feature I came up with is custom break times. Currently it has only 20-20-20 and 50-10 break rules, but I'm thinking to add "Custom" one to add more personalization. Also I'm thinking of redesigning it. I agree that it doesn't look that well and excuse that I'm not a designer doesn't count here. Hopefully redesign will be done on later versions.
Also I noticed that  there are 30 weekly users and 40 weekly installs. As for an extension with almost no promotion - pretty good.
If you have any suggestions about how to improve the extension - please don't hesitate and leave a comment below.
Take a look at it here: Break Helper 1.1 on Chrome Web Store